Driveways
Pavefirm is one of the most renowned driveway companies in Watford- A time served team of driveway experts specialising in patios and block paved driveways
Block Paved Driveways
Block paving is one of the most popular materials for drives and paths.
It is cost effective, durable and can be laid in many patterns, colours, styles and finishes. It can also be easily maintained, and in cases of stains and damage, individual blocks replaced.
We use high quality paving blocks as standard from the leading manufactures such as Marshalls, Stonemarket, Brett, Hanson, Bradstone and Natural Stone Paving. These products are constructed to the highest industry standards and will look stunning for years.
Pavefirm install blocks, or paving sets, and have the creativity to ensure you have a driveway, patio or path that is the envy of your whole neighbourhood.
Have a look at other driveways we've installed in our driveways gallery
Block Paving Services Include:
Block paved driveways
Patios
Paths
Walk ways
Borders
Roads
Forecourts
Resin Bound Driveways
Proving to be very popular now is resin bonded/bound surfacing. It is a mixture of naturally sourced stones and a strong durable UV stable resin. Once the stones and resin are mixed, it is then poured and hand trowelled onto the driveway to create an attractive, seamless, strong and smooth finish.
Our naturally sourced stones are a mixture of aggregates including gravel, shingle, quartz and crushed granite. The stones can be angular or smooth and come in a variety of sizes, from 1mm to 5mm pieces. They are also available in an array of colours, either a single colour or a blend of a few colours.
Stunning effects can be achieved because of the flexibility of this product and the endless possibilities because of the colour combinations. Our resin bound driveways are expertly designed, installed and hand finished by our team.
Resin Surfacing Services Include:
Driveways
Paths
Walk ways
Porches
Borders
Roads
Entrances to retail parks
Forecourts
Patios
Tarmac Driveways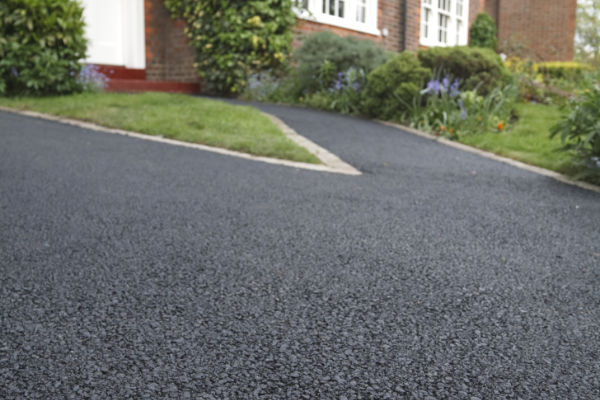 Pavefirm are complete experts when it comes to installing a new driveway to the highest standards.
Our family run business has been in this industry for many years. We offer a comprehensive service from design and planning straight through to completion. We carry out all of the work ourselves and do not rely on outside contractors. You can rest assured your driveway will be in safe hands and the works will be conducted in a professional and timely manner at all times.
Our goal is to build you a stunning driveway that is built to last.
Have a look at other tarmac driveways we've installed in our tarmac gallery
Tarmac Services Include:
Driveways
Paths
Forecourts
Car Parks
Tennis Courts
Play Areas
Roads
Gardens
Skate Parks
Factories
Gravel & Shingle Driveways
Gravel Driveways can come in a wide variety of colours and sizes and have a variety of uses - whether it is to give a new look to an existing driveway, path or patio or to enhance the appearance of a flower-bed or border.
At Pavefirm, through our suppliers, we have access to all of the most popular and complimentary options and we would be happy to help you find the one most suitable for you.
All of our gravel jobs are installed with a Geo-tex membrane fitted underneath as standard, as this is necessary to prevent future weed growth. Any driveway or frequently used path or patio area, where strength is necessary, can be installed using an M.O.T stone sub-base with its own separate membrane to prevent future sink-age.
Services Pavefirm provide
Block Paving
Natural Stone
Driveway Paving
Stone Paving
Patio Paving
Slab Laying
Tarmacadam
General Hardstanding Repairs
Landscaping
Fencing
Brickwork
Groundworks